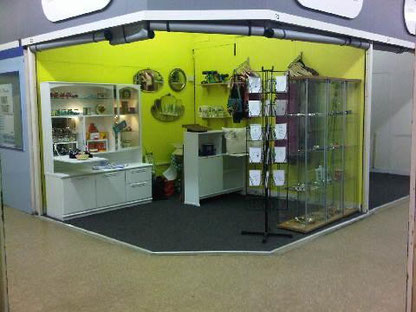 Well... where to begin? I've been hibernating through the winter, moving house, designing new collections and opening my first boutique! It's all been very exciting and exhausting but the Eco Chic Boutique is now open!
I'm selling fabulous vintage recycled and new beads as well as revamped clothes shoes and accessories, amazing Hazel Bee cards which are just hilarious! Handmade cushions by Lalou, gorgeous handmade jewellery of course, and lots of other lovely bits and pieces!

The Shop is located in a tiny town called Bishop Aukland, in County Durham, it's part of the 'In Shops' arcade on the main high street! I've been lucky enough to be part of the One Northeast Enterprise Scheme, helping new business get up and running.
I was just listening to Teesdale Radio while peeling wallpaper in our new house, when I heard an advert for funding through 'flexible families' at Enterprise House in Barnard Castle, so I went in for a chat with Sue Smith and came out with a shop!!! I'm so excited and grateful, I've always wanted my own little boutique where I can just sit and make lovely jewellery! I just didn't think it would be possible! So thank you so much to everyone who has helped me get set up! I really can't thank you enough X:-)