---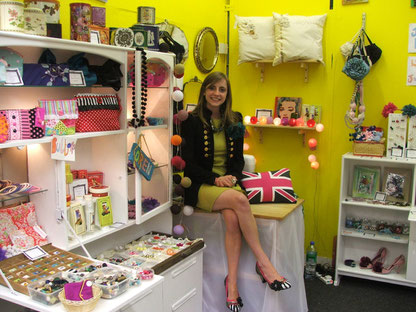 After many late nights, early mornings and a bit of elbow grease the new shop is now open!! Eco Chic Boutique has moved to the beautiful historic market town of Barnard Castle in County Durham! Home to the famous Bowes Museum and surrounded by idyllic countryside, beautiful views, amazing antique shops, friends and family! I also completely love the fact that there is no rush hour!!! In Manchester i was leaving the house at 8am to get to work for 9.30am, and the same journey only took 15mins in normal traffic!!!
Eco Chic Boutique can be located inside 'My Generation' right next to the Butter Market in Barnard Castle town centre. 'My Generation' is an Aladins cave filled with all things Retro, Collectable and Timeless Classics as well as some amazing handmade textiles and artwork by local artists such as Ingried Swan and Stephanie Grant. You can find the Eco Chic Boutique neatly nestled in the back of 'My Generation' selling all things eco, vintage, handmade and fabulous!
I'm stocking some amazing artists work such as some original and limited edition prints by the up and coming star Matthew Swan! Fab t-shirts and cards by Mia Hague and Gus Little, handmade bags and purses by boho raspberry, cute jewellery by she draws, hilarious cards by Hazel Bee! I regularly have people crying with laughter in the corner of the shop because of Hazel!!! Sophisticated contemporary jewellery by Rachel Hearne Stunning Sterling Silver and Swarovski Crystal jewellery by Veritas, cute little glass brooches by Joanna Hedley, gorgeous textile jewellery, hairbands and brooches by Sally Southern.... the list goes on!
Oh my goodness and incredible revamped to order shoes by 'God Bless Shoes' the excitement is unbearable!!! Honestly people are going wild for the shoes! so if you'd like to see some pics and get the latest news have a look at  www.facebook.com/ecochicboutique