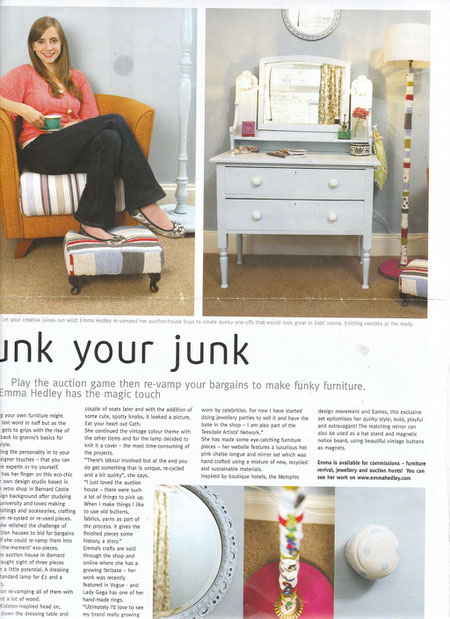 A few weeks ago I was asked to revamp some furniture for Addisons auctioneers in Barnard Castle and LUXE magazine. 
I had to go along to an auction, bid on some bargain furniture, then take it home and revamp it!
It was all very exciting! I had to try and compose myself otherwise I would have got whipped up into a frenzy and bought everything!! As it was my first time at an auction, i didn't realise you had to register to be able to bid, so after a few failed attemptes at bidding I asked at the reception what i was supposed to do! Ridiculous I know. Anyway i managed to get the standard lamps a foot stool and a dressing table for less than a tenner!
then the work began...
I decided to knit a cover for one of the lamps and the foot stool, knitting is great and you can do it almost anywhere... which i did, even walking around Barny during the Teesdale open studios week! I used organic fairtrade cotton from Buttons and Bowes, a fantastic wool shop in Barnard Castle, and some odds and ends from the YMCA local charity shop.
The dressing table and the other standard lamp, I re painted in a lovely duck egg blue, then painted the handles white with blue spots! Which compared to the knitting marathon was quick and easy! The lamps needed re-wiring and a couple of nice lamp shades and that was it!
Auctions are the best! You can find some fab bargains, and have great fun at the same time! I will definitely be going again x:-)  
To see the LUXE magazine article and furniture pics click the link below
http://www.luxe-magazine.co.uk/archive/2010/LXissue7/pageflip.html