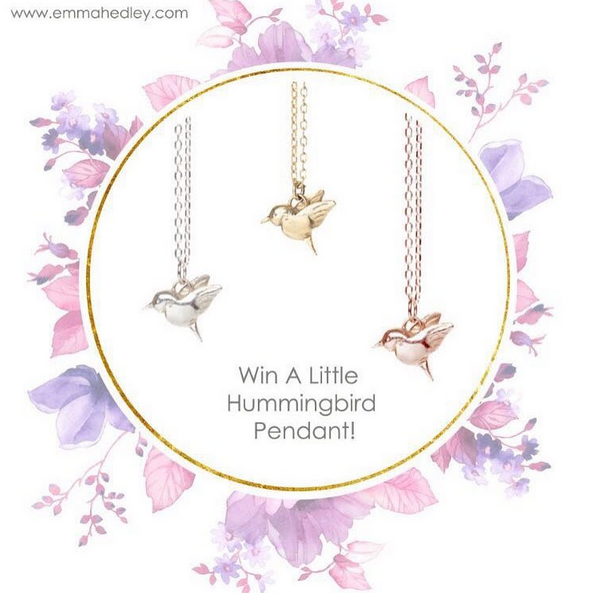 How to Enter
To enter our competition to win one of these gorgeous little hummingbird pendants, you can enter via Facebook, Instagram and/or Twitter.
Facebook page Like the page and tag a friend in the competition post.  www.facebook.com/emmahedleyjewellery
Instagram, Follow us, Like the post and Tag a friend. www.instagram.com/emmahedleyjewellery
Twitter: Follow us and like the competition post
Terms and Conditions:
You can enter the competition more than once, you will be entered into the prize draw a maximum of 3 times if you follow the above instructions for Facebook, Twitter and Instagram.
Deadline for entries is Midnight Sunday 30th October 2016. The winner will be selected at random, by pulling a name out of a hat.
The winner will be announced Sunday 6th November 2016.
Entrants must have followed the Emma Hedley Jewellery Instagram page, liked the post and tagged a friend. And/Or on the Emma Hedley Jewellery Facebook Page, liked the page, liked the post and tagged a friend. And/Or Followed Emma Hedley Jewellery Twitter account and liked the competition post.
The winner can choose between a silver, yellow gold plated, or rose gold plated little hummingbird on an 18" chain. The winner will receive the chosen prize via Royal Mail special delivery within 30 days of selecting their chosen colour.
Thank you for entering the competition, and good luck!!!!! 
Click here to see our other collections